Ace of Spades
A true friend, vital for DEA/teamspirit and teamwork, was known for his jokes and funny nature, left because of US/euro difference, latest seen in BOTA (df2, GR), missed…

Al Bundy
Al Bundy is DEA and DEA is Al Bundy, I dont even dare to imagine A DEA without Al Bundy. You can always count on Al Bundy and he have been around for many years and always worked hard dedicated for the squad.Where u got horses on the foreground.. U got horses on the background.. and al bundy is one of them. Certainly in the last year.. he opend my eyes for the work behind dea. Almost never (there are more lol)..have we seen people who were so dedicated to team… and can count themselfs away.. for the squad…. a guy behind the scene.. Un missableHe is our man

Bad Al
Bad Al always showed great sportmanship in every match he played . Even in matches where we got buttraped, Bad Al always found a reason to have a laugh and been able to cheer up his fellow team mates.

Carbon
Yes it looks a little weird me putting up my brother…but he has played ALOT of matches in both DF2 and LW, was one of our forces in both games, he is in DEA CS alltho its not an active division, he can still be asked to play df2 or lw if needed, retired but always available. Hopefully I can pursade him to some newer game Still very much around…

Chesskng
DEA's founder, love the "talk" wars but always with humor, 1 of the "first5", he left DEA when we seeked competition and he went more inactive, can be seen on www.ragingwars.com forums from time to time, last seen in c2 (df2 squad), missed…

Ðevious
He was recruited for DF2 in two attempts and the last made him stick like glue. Devious is one of the best shooters in the newer DF2 era but he is one of few who were able to maintain same lvl of skill in both DF2, BHD, JO and can still play these games with a high standard, Devious is a guy you always can rely on in matches and he mostly increased our chances of winning significantly.He attended the last DEA party in 2005 and like Fierce our first LAN event in which we became #2 in BHD, Devious is still around and among other stuff he maintain our forums and is in Council

Ðírtbag
Dirtbag joined *DEA as a reserve player for DF2, while leading the DF:LW Team Slayers *S* After Slayers split up he joined *DEA in LW and soon took over the job as TKOTH CO. With big success in TKOTH, he was asked to take over CTF even he had very little experience in that gametype. He took the challenge. Shortly after, Dirtbag introduced *DEA to the ultimate ball challenge of them all Flagball. Flagball soon became one of the most loved gametypes in DF:LW. With hard work and good tactics the *DEA team where soon to find on the top of the many tournaments. Most notorious victories as CO must be beating *EA* in the unofficial world championship in both CTF and FB finals. EA was at that time the most winning American team who had a winning streak of 25+. *DEA put an end to that.
When *DEA expanded to DF:BHD then Dirtbag was there as well, making tactics, planning matches getting servers and what else comes as CO. Played heavy for 3 month until he went inactive for personal reasons. Dirtbag is still among us, and is a long time Council member.

Fìêrçé²
He has been one of our strongest and longest lasting motors in DEA, he was recruited in 2002 esp. for CO'ing in mind. Fierce started out in DF2 as a strong flagrunner and soon took CO function. He held DEA up in DF2 for a long time before he moved into BHD where he was among one of our most elite functioned divisions. He is one of the reasons that DEA BHD still maintain a strong division. Fierce was and is one of our most significant members in DEA structure. Fierce has not only orginasotorical skills but is a key player in most of the games he play(ed), strong and always reliable. Fierce has the record of most matches overall in DEA and also attended DEA's first LAN event in which we became #2He attended so far 2 DEA parties in 2004 and 2005, luckily we still have the pleasure of his services in Council and divisions

Herkulez
Herkulez is the longest member of DEA. Without him DEA would never be what it is today. Always polite and he is always there when things happen to DEA either in good or bad times. Herk has delt with a lot of issues in the past and present, and always done so with great result, which has giving him the respect he has always deserved. Herk is co-arranger of the DEA party which are being helt at coy's place and always gives us a freakin good time when we are here in Denmark.He has been involved in many games and has never been affraid to give away from his experience.

Humate
Now here we got some "controversy"…lol He is always ready with a smart remark, a fun way of saying things, I had to keep him in a short leach lol..but still he was easy to get a long with and he certainly made his footprint in DEA, a true teamplayers and great friend….Still around….
kris
Controversial? no but wierd? hell ya..lol He often gave us grey hair but in a positive way, is a little rootless but a great guy and even greater player, He was one of our key players at his time, a player who was hard to put in a tactic but always did what was best for the team when most needed, still around…..

Lefty
A topnotch gunner in DF:LW great dedication and very good at reading the game and adabt to it.

Lotte
DEA cheerleader and mascot, great friend to us all, awesome flagrunner and zone/nurse both in DF2 and LW, another one vital for DEA/teamspirit, co-host of DEA Party I, II and III, last seen "yesterday", missed…

m0rax
Rearly seen anyone as didicated as m0rax. He was a 56k player and a Zoner and flagrunner. He's the guy in DF:LW history who run most flags and one of the few zoners who could end up with a positive ration in TKOTH matches unlike 99% of all other zoners.

McCoy
McCoy has put a lot of effort in the divisions he was leading and did that with much succes. Won several trophies with them and even came all the way from denmark to gain a well deserved ( could of been 1st ) 2nd place in Eindhoven ( lan = life ). McCoy has been hosting the DEA party's so he is also very active on the background of DEA.

Patjuh
Patrick aka Patjuh was a great and most respected member of *DEA who sadly got taken away from us the 26th of September 2008 in a tragic car accident.
Patjuh joined *DEA back in 2003 in DF:2 and where active in many different games. Most notable was when he revived our Counter Strike 1.6 division with great success. Patjuh was a proud member of *DEA and *DEA are very proud to have had such a great guy within our ranks, he will always be remembered.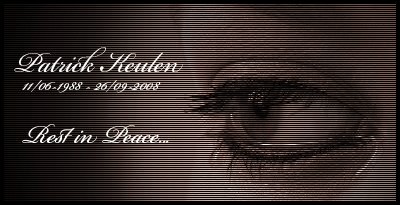 Rest in Peace Patjuh
Semper Fidelis Honourable Agent, Rest in Peace
Patrick 'Patjuh' Keulen
1988 – 2008

Schenton
DEA's alltime youngest member, was recruited at the age of? 12 I think Nevertheless he joined DEA for DF2 in our early stages and became a strong allrounder and good teamplayer, he was one of the first guys to make a full switch to LW and became one of our best at that time, good friend of his teammates. Last seen in CS…missed

Silent
On the 27th May 2010, John 'Silent' Dogza, a 22 year old long standing member of DEA, was traveling in a mini cooper which collided into a wall in his hometown of Wakefield. His girlfriend, who was also traveling with him, sadly past away at the scene whilst John was rushed to hospital.
As the days past, John's original injuries to his brain slowly spread and he sadly died on Monday.
John joined DEA in 2003 and although he was no longer playing any games with us he was often seen on our forums and teamspeak sharing banter with members. He was always happy to have a laugh and always gave as good as he got. His personality and attitude, as a friend and player will be a huge loss to DEA.
John was considered family at DEA and he had close friendships with a lot of the members here. We have been left shocked and stunned at the fact he will no longer be around.
DEA sends condolences to his family and friends that knew him,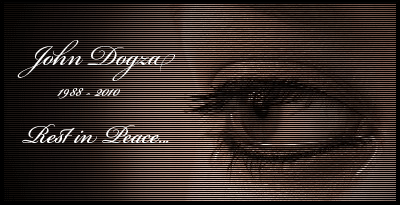 Rest in Peace John
Semper Fidelis Honourable Agent. Rest in Peace.
John 'Silent' Dogza
1988 – 2010

SweetCheeks
A loved person in DEA, again important for DEA/teamspirit, dedicated zoner 1 of the "first5", she (a lethal girl..lol) moved to USA and became inactive, guest and last seen in DEA Party I, missed…

Synopsys
Awesome player, didn't talk much on forums but very active in matches and another reason for our success and wins in DF2, esp remembered by s7 and atv , left DF2, last seen in his wheelchair, missed…

T'a
This is one dedicated and hardworking guy, he lifted our TDM side up to another level, we almost went from beeing a TKOTH squad to a TDM squad, sadly he burned out slowly faded away, last seen on ICQ, missed…

T3
Superb M4, prolly one of the best TKOTH M4's, always up for a good debate, a great friend and vital for DEA/teamspirit, very active in matches and a key when DEA started our way to the top, never left DEA but real life keeps him busy, guest in DEA Party III, missed…

The Ripper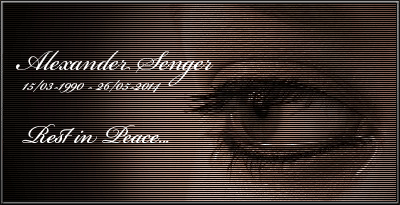 Rest in Peace Alexander
Semper Fidelis Honourable Agent. Rest in Peace.
Alexander 'The Ripper' Senger
1990 – 2014

Tokin@Bong
One of our "TNP" recruits, he slowly became a vital player in matches and good for DEA/teamspirit and teamwork, became our TKOTH CO for a period but suddenly got lost in CS world, guest in DEA Party II, missed…

Touch
One of the few who showed top skills in every match he played for *DEA and been a long time member of the DF:LW team. Also took the job as keeping DF:LW alive when many of the Oldies took a break